I've got something that I'm really excited to tell you. I'm finally a published author!
Here's how it all happened.
Kara Fair, a fellow health blogger who goes by the name Wellness Babe, recognized all the confusion around the different diets that are currently popular. To solve this problem, she is putting together a series of books about each of the major diets/lifestyles out there. She calls the series How Should I Eat? She interviewed experts on each of the popular diets/lifestyles and she selected me to help her with the Paleo Diet!
I was honored to be interviewed by her.
We've converted the interview into an easy-to-read eBook that you can download onto your Kindle or Kindle app. It's called How Should I Eat? Living Paleo.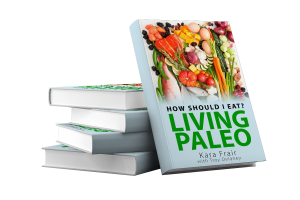 Some of the topics we cover included:
What a true "Paleo diet" consists of
Common Paleo myths debunked
Resources for buying high-quality food
How to burn fat as fuel rather than storing it
How Paleo addresses other factors involved in fat loss and health besides diet
You'll also learn:
Why I'm not 100% Paleo
How I lost 20lbs in 30 days
My perspective on the Paleo lifestyle
Why a Paleo diet is a good start for great health
What it's like to "go Paleo"
Tips for making quick, delicious meals
The one action you can take right away to start dropping weight
There's also a special offer on our premier healthy lifestyle and fat-loss program.
Please check it out and most importantly, please leave a review.
You can buy the book now for only $0.99.
The other books in Kara's How Should I Eat? series include:
And more to come. I encourage you to check all of them out.