Step away from the coffee maker (it's not why you think)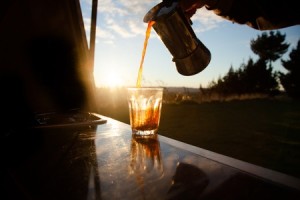 I was waiting in line to use the microwave when my co-worker Uncle Butt put his food in. He left his Cuban in plastic Saran wrap. I said "What are you doing – do you have a death wish???" The next person in line put her food in which was stored in plastic.
WHAT!!!
I've eliminated most plastic that comes into contact with my food. Plastic cups, plates, Tupperware…all of it. Am I crazy? Everyone at work thinks I am.
Plastic, even BPA-free are potentially harmful, and can make you fat and infertile.
The chemicals in plastic leach into your food especially when the plastic is exposed to hot food/liquids, washed in the dishwasher (even if the plastic says "dishwasher safe") or when  they get old. Fatty foods are particularly notorious for absorbing the leached chemicals.
Plastic is also photodegradable, meaning that plastic water bottle you're drinking out of is probably leaching chemicals into the water every time it's exposed to light. The older the water bottle, the more broken down the bottle becomes.
It's not a risk I want to take, especially when it's so easily avoidable.
Plastic is reactive whereas glass is inert – it doesn't react with anything else.
I use glass Pyrex Tupperware to store my most of my food, I drink out of glasses and stainless steel canteens and I only eat off of ceramic plates.
One thing that constantly bugged me was my coffee maker. I had lots of plastic parts that were exposed to hot water. Even my Aeropress was made of plastic (which I still use on rare occasions just because it makes such good coffee!)
That lingering thought was always in the back of my mind – "how many chemicals are leaching into my coffee every morning and what's it doing to my long-term health?"
I went on a search for an automatic coffee maker that didn't have any plastic parts. This wasn't easy. Every automatic coffee maker I found had plastic parts until I had a flash-back to growing up at my parent's house.
My dad would wake us up every morning with his damn percolator. It was so loud as it chugged away at making the morning coffee.
But it was made out of all stainless steel – all of it!
I searched Amazon and ended up with this one.
Now I have peace of mind – but my co-workers still think I'm crazy.
What kind of coffee make do you use?